What is Bullrun?
What is Bullrun?
 

The Bullrun brand originated from the now legendary Bullrun USA car rally that began in 2004. It has been regarded as the most glamorous and high profile "luxury lifestyle" automotive rally and continues to grow every year.

Each year up to a 100 cars; driven by celebrities, and thrill seeking individuals from around the world, embark on an epic seven-day rolling road-trip, where the only obligatory goals are to drive hard and party harder!

Bullrun crosses the USA each year, bringing together a celebrity strewn cast of wild and wacky characters for an unforgettable adventure!

Fuelled by an impressive schedule of public and private events at the finest venues and hotels and in the most exciting cities in America, 'Bullrunners' make their way from one checkpoint to the next, only learning their next destination daily, rocking to a close each night in the party capitals of America.

Entry to this event is $20,000. This covers both drivers for 5-star accommodations, rally entry, first class meals and unforgettable parties for the week of the rally. This live rally event is filmed for TV and currently airs in 96 countries outside the United States (See Bullrun TV). The TV show will be in it's 7th season in 2010. The title of this TV series is "Cops, Cars and Superstars" 
 
---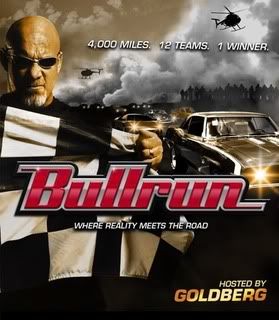 This show format is a 'spin off' and based on the legendary Bullrun Rally (above). It is a totally separate event as 12 teams compete for $200,000 over 4,000 miles in a 10 episode reality elimination TV show filled with explosive challenges and equally explosive personalities. (See Bullrun Reality TV). The show is hosted by WWE Wrestling giant and genuine car guy; Bill Goldberg

Season 1 of the reality show aired on MTV Network's Spike TV in March 2007. Season 1 saw teams fighting to get to the challenge checkpoint first, where the first two teams to arrive were able to throw two teams each into a fiery challenge where they would battle it out head to head with their official times on the line. The fastest team of the paring took the losers time in the first leg. Season 1 then saw teams battling it out on the roads of America to the final checkpoint of the day where the slowest team of the day was booted off the show.

Season 2 of Bullrun aired in February 2009 on SPEEDtv. It took the best aspects of Season 1 and boosted it up a notch with fiercer competition and more explosive challenges. Season 2 saw teams battle it out on the road and at the end of each episode, 3 teams (the two teams that placed at the bottom of the standings for that leg and one team chosen by the winner of the leg) competed in a challenge filled with explosions and general mayhem. The team with the slowest time in this challenge was eliminated from the show.

Season 3 of Bullrun airs on SPEEDtv in February 2010 and promises to make the challenges even meaner and takes competition to a whole new level. See how it all plays out on Feb. 18th 2010!!!

This reality show free to applicants if selected for the TV show. Individuals who want to be Contestants or Flag Girls in the reality show can set up Driver or Flag Girl profiles on this website and will automatically be considered for the show. Prospective contestants also need to create a 5-minute audition video showcasing their driving abilities and personalities. Post your videos on your driver profile and wait for casting to be announced before you take any further action. Remember, the casting directors will always contact you. If they are interested in you, then they will be in contact.
Become a fan of Bullrun on facebook!